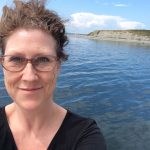 Hi. I'm Julie. I'm a former academic, writer, and life coach who lives with a whole bunch of chronic illnesses, including CFS/ME, endometriosis, hypothyroid, allergies galore, and probably other things I can't remember right now because there are too damn many. I'm a huge introvert and HSP who generally needs a lot of solitude and quiet. I'm an inveterate reader who generally has several books going at one time, everything from romance and mystery to natural history and memoir. Learning is high on the list of my favorite things. (Other favorites: big dogs, tiny babies, color, succulents, really big nature, rain, and tea in a good mug.)
I grew up in the Navy, so I've lived all kinds of places with all kinds of people, but the ocean was a constant for me. We moved about every three years, which was practically stationary in that context, but I went to different schools for sixth, seventh, eighth, and ninth grades. This is not something I recommend. The upshot of all of that moving is that I'm really good at transition, and I'm still learning how to put down the roots I desperately desire.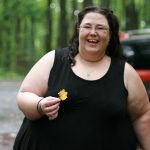 I'm married to Catharine, who has a number of mental health diagnoses and ADD on top of some physical issues. She's a minister, a spiritual director, and a pagan teacher who puts on amazing ritual. She's a big extrovert who likes to process out loud and who can carry on half a dozen chat conversations with friends and loved ones at the same time.
She grew up in a college town in central Pennsylvania; her family still lives there. She's amazing at putting down roots, but not so great at navigating transition.
We met in 1998 at a dinner party thrown by mutual friends so Catharine could hit on someone else. Five years later, after she got out of the convent (I'm not even joking), we started a romantic relationship and got married a year after that, in 2004. She got her first mental health diagnosis in 2005, although in retrospect we can see the tendrils of that diagnosis as far back as 1979. We currently live with two cats (our dogs are dearly departed) in Portland, OR. We both work from home, which is just as exciting and challenging as you think it would be for people as different as we are.
Over the years, I've longed for community around partnering or loving people with mental illness. It's so stigmatized, and the challenges of recovery are so high, that talking to people who didn't get it felt too dangerous, because I love my girl. I wanted to vent, not have to defend her to people who had all kinds of judgements. I ran across the occasional support group, but attending something like that felt much too difficult when I was swamped with fatigue and still working full time.
It's so easy, when you love someone with mental illness, for everything to become about them, because their needs are so immediate, so present, and, sometimes, so life-and-death. One of the hardest things, for me, in building a healthy, equal relationship, has been (and is) learning how to stand in my own space and insist on my own needs and my own experience.
I'm writing here to talk about my own experience loving someone with mental illness, the beauty and the challenges, the hard stuff and the joy, because it's complicated and there are few spaces when it gets to be about us.
We matter, and not just because we help someone else make it through. Our experiences count, even if hearing about them would make our person sad. Our needs matter, even if they aren't quite as immediately life or death.
So this space is for everyone who loves someone with mental illness. I hope you'll share your experience. I hope you'll find some catharsis in not being the only one. I hope you're okay with swearing and the occasional bout of black humor, because they are crucial coping tools in my book. I hope you'll feel less alone.
(PS—Just in case you were wondering, and it's a good question, Catharine has given me permission to write about her diagnoses and the shit we go through.)