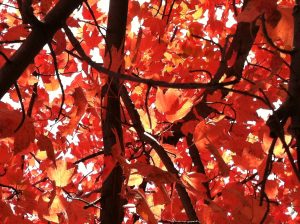 In the 13 years of our romantic relationship, my wife and I have been through a lot.
We've lost one father, two grandmothers, and three critters. We decided to have a kid, didn't get pregnant, decided to adopt, went through the home study process, then decided to be childless. We moved twice, once 150 miles to a city in which most of our friends lived, one 3,000 miles to a place we knew very few people. There have been at least three major career shifts between us. She went to graduate school. I had three surgeries. She had two hospitalizations. We've together collected about a dozen diagnoses on top of two or three we started with.
It's been a ride, is what I'm saying.
On the one hand, it's our life. It's normal to us, to a certain extent, and so much of it showed up gradually. We got to get used to things.
On the other, you could forgive us for occasionally needing to lay on the floor and marvel at our collective ability to cope.
Even in this midst of all of this really hard stuff, the hardest things to deal with have been my wife's mental illness and ADD. They're so constant, and at the same time so variable. They're isolating, to both of us. They need so much attention and care and discipline. They conflict so wildly with one another.
And, most of all, they and the patterns we've formed around them have made it really hard to have a true partnership, a balanced relationship of mutual support. So many things have gotten so much better over the last dozen years since she was first diagnosed, but we haven't yet been successful in sustaining new patterns.
I'm leery of talking about this in one way, because so much of the discourse around people with mental illness is how hard it is for their families, as if they are only a burden, as if the perspectives of the people living with mental illness aren't relevant, as if they are problems to be managed. So many of those narratives are born out of parent/child dynamics that always have power differentials built in, and those dynamics often get replicated in other relationships.
So maybe there's something radical about starting from the assumption that we can and should have a balanced, equal, mutually supportive relationship, that we have responsibilities to one another and to ourselves.
I don't think we're alone in our desire to have that kind of relationship or our struggles to get there. There just hasn't been a lot of space in the bigger conversation.
I want to write our way into better patterns, more insight, and greater skill. I can only write from my own perspective in this relationship, but I write with the full support of Catharine.
It won't always be pretty and intellectual. Sometimes I'm so angry I want to blow up the world. But I have faith that showing up to the work and sharing that work with others who know can change things for the better.